Lakeside Paradise
Lakeside Paradise started in 2012 as a totally new water sports club in Knokke-Heist. The location, situated on the shores of the Duinenwatermeer, is very easy to reach by public transport as the bus stop is only 20 metres away, and train and tram stops are only 500 metres away. Those arriving privately by bike or car can park in front of the door.

Lakeside Paradise itself consists of a Pro Shop, a Sports Hostel, a full restaurant and bar, and a large terrace with a sandy beach giving a great view of all the action.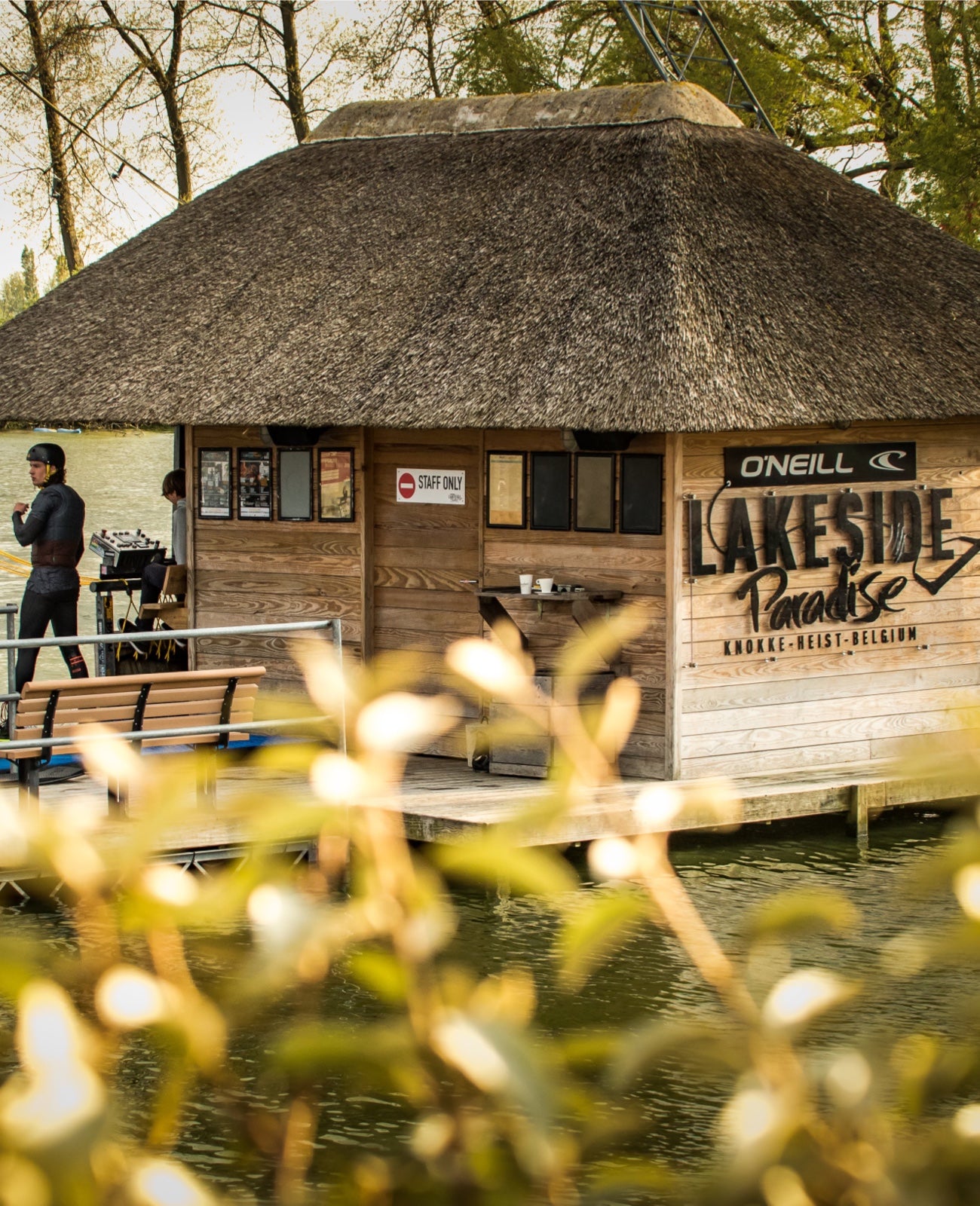 That action consists of Flanders' first wakeboarding cable car, 720m long, where you can water ski, wakeboard, wakeskate or kneeboard with 8 people at the same time. 20 different "Unit" obstacles help make Lakeside Paradise cable park one of the world's top 10.

In addition, there is a 2.0 small cableway on which beginners from the age of 6 can learn everything super easily, or where advanced wakeboarders can practice. It is also the perfect solution for water sports enthusiasts who want to learn foilboarding.

A few years back, the second fullsize cable was added, the Rookie Cable. This cable runs at a slower speed and, unlike the Pro Cable, to the right side. There are plenty of obstacles here too.

All equipment is available. For example, O'Neill 5mm full wetsuits to keep you warm at all times, beginner and advanced wakeboards, water skis, kneeboards, wakeskates, foilboards, mandatory helmets and life jackets are provided. Through a membership, you enjoy all kinds of benefits such as season pass, year pass, winter pass, 10 and 20 turn tickets, various discounts and on top of that, you are also a member of Surfers Paradise! So, 2 for the price of 1. It is recommended to take out physical accident insurance.
During weekdays, outside school holidays, there is room for stand-up paddleboarding and kayaking. Inflatable targets also allow a game of kayak polo. All this is perfect for organising school sports days, company outings, teambuilding activities, sporting birthday parties, bachelor days, family parties and you name it. Sea classes and water sports camps are also on the menu because thanks to the hostel with 10 rooms and 80 beds, overnight accommodation is of course available.
Are you coming as a supporter or as a regular visitor? Then this is paradise for you too. In addition to full-board options for groups, the restaurant offers tapas, cocktails and a healthy, tasty, fresh and affordable menu that changes every season. In summer, there are the regular BBQ evenings or paella options. In the clubhouse with open kitchen, you can lounge by the fireplace or have a nice dinner, while you can also opt for the covered and heated terrace. There is also an outdoor terrace with comfortable lounge sets, sunset views, a BBQ area and a Tiki Bar. Prefer feet in the sand? Then the beach area offers the solution: fire bowls, hammocks, trampoline, children's playground and numerous seats with cushions that will make you sink in wonderfully, gaze at the water...

Opening hours depend on period to period. Lakeside Paradise is open daily from the Easter holidays to the autumn holidays. In between, all weekends and holidays.

Everyone is welcome to enjoy the "feel good" feeling of this watersports centre in a relaxed and family environment.